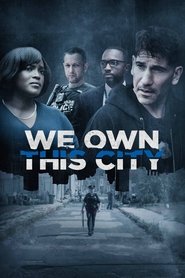 We Own This City Episode 2 Ending Explained
'We Own This City' is a documentary that explores the story of corruption within the Baltimore Police Department's Gun Trace Task Force. Wayne Jenkins reflects on his time with the BPD while in police custody in the second episode, titled 'Part Two.' Erika Jensen, an FBI agent, begins her investigation into the Baltimore Police Department with the assistance of Harford County Detective David McDougall. However, as Jensen investigates the cops and interviews officer Jemell Rayam, she discovers the horrifying depths of BPD corruption. Here's everything you need to know about 'We Own This City' episode 2 if you want to catch up on the show's events and ending! WARNING: SPOILERS AHEAD!
Recap of Episode 2 of We Own This City
The second episode, dubbed 'Part Two,' begins with Wayne Jenkins being detained by the FBI. He reflects on his early experiences with BPD. Jenkins picked up the idea of doing things his own way early in his career, without much respect for standards and procedures, according to a flashback sequence. He also learns more about Baltimore's high crime rates and recognizes the need for strict police on the city's streets. Jenkins now threatens his GTTF colleague Jemell Rayam to keep his mouth sealed.
FBI Agent Erika Jensen began questioning Rayam in the interrogation room. Following the death of Freddie Gray in 2015, Kevin Davis is appointed as Commissioner and addresses the GTTF and other plainclothes cops. Davis reassures his officers in the field that he will support them if they use severe measures, but he also urges them to be cautious. Davis, on the other hand, is irritated by Jenkins' defiant behavior during the meeting. Meanwhile, Aaron Anderson is being questioned by Detectives David McDougall and Jensen. He reveals Antonio Shropshire's link to a man named G Money.
Meanwhile, Harford County cops start eavesdropping officer Momodu Gondo. McDougall and Jensen soon understand that "G Money" is Gondo's street moniker. As a result, he suspects the BPD is implicated in Shropshire's narcotics trade. In the present, Jensen resumes his conversation with Rayam, who tells him more about the GTTF's robbery at Anderson's house, during which they seized cash and drugs. Nicole Steele investigates GTTF's Daniel Hersl and chats with one of the victims of Hersel's cruelty in 2015. Simultaneously, Sean M. Suiter conducts a homicide investigation.
Who Are the Other Corrupt Cops? We Own This City Episode 2 Ending: Who Are the Other Corrupt Cops?
Erika Jensen interrogates Jemell Rayam as the program develops. While the first episode focuses on Momodu "G Money" Gondo and Wayne Jenkins as two corrupt cops in the BPD's Gun Trace Task Force, the second episode uncovers even more corrupt cops. Rayam speaks out against Gondo and Jenkins, describing Sergeant Thomas Allers as one of the city's corrupt cops. Allers, according to the disgraced officer, is not only aware of Jenkins and Gondo's criminal acts, but also participates in them.
Furthermore, Rayam implies that the police are protected by higher authorities because of their brutal yet efficient street policing practices. Nicole Steele notices the same thing when she finds that relatively few complaints against GTTF cops are actually sustained. Furthermore, there is little to no action taken against these cops. Rayam discusses with Jensen how the officers took money from the citizens and were pardoned with little consequence.
Rayam discusses a 2009 event in which he stole money and was suspended with pay. He was added to the GTTF when he was returned to the force. Rayam claims the entire squad was involved in illicit acts like racketeering and robbery. As a result of Rayam's evidence, it is evident that the GTTF personnel used their authority for personal benefit while ignoring police protocols and people' rights.
Steele interacts with Daniel Hersl in the episode's concluding moments, attempting to grasp the situation of policing in the city. Steele seeks Hersl's opinion on the police force's aggressive tactics on the streets. She confronts Hersl about the large number of brutality allegations lodged against him. Hersl, on the other hand, claims that none of the complaints were upheld because the complainants were criminals apprehended by him. Finally, the DOJ's examination of the GTTF appears to be pointless because it only looks at the seriousness of the officers' acts. Their unethical acts, however, remain hidden. Steele's investigation is pitted against Jensen's, and additional information regarding the levels of corruption inside the BPD is uncovered.
Views: 362
Genre: Crime, Drama, TV Shows Explainers
Director: David Simon, George Pelecanos
Actors: Dagmara Domińczyk, Darrell Britt-Gibson, David Corenswet, Delaney Williams, Don Harvey, Ian Duff, Jamie Hector, Jon Bernthal, Josh Charles, Larry Mitchell, Lucas Van Engen, McKinley Belcher III, Rob Brown, Wunmi Mosaku