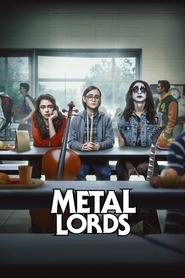 Who Will Win the Metal Lords Battle of the Bands?
'Metal Lords' is a musical coming-of-age film. It follows Kevin (Jaeden Martell) and Hunter (Adrian Greensmith), best friends and co-founders of Skullf***er, a fledgling heavy metal band. Hunter is clearly more committed in the band, as evidenced by his room full of rock paraphernalia. Kevin, for the most part, is just along for the trip. They are basically misfits in school. Apparently, fanboying over Judas Priest, Black Sabbath, and Iron Maiden isn't as common a topic of conversation as it once was. Mollycoddle, on the other hand, and its lead singer, Clay. They are the classic popular kids at school, with their lovely smiles and Ed Sheeran and Imagine Dragons covers. Hunter and Kevin start preparing after learning that the famed Battle of the Bands competition will be returning that year. They still need a bassist to complete the trio, and Emily (Isis Hainsworth), a young Scottish-American cellist with rage issues, appears to be the one. Here's what you need to know if you're wondering who will win the Battle of the Bands. WARNING: SPOILERS AHEAD.
Who will triumph in the Battle of the Bands?
Kevin and Hunter's life, like the lives of most other high school students, are plagued by a slew of issues, including bullies, uncaring parents, and irritated instructors. Hunter is the heavy metal equivalent of Dewey Finn. From Satan-worshipping to dressing up as a Kiss member, he shows his affinity for the genre in spades. Meanwhile, Kevin isn't as into heavy metal as his friend is. They are Glenwood Lake High School students. Clay tells them about the Battle of the Bands while they are at a party. Hunter attacks Clay and his band's music, saying that Skullf***er will win the competition. The boys begin a desperate quest for a bassist after signing with Dean Swanson.
Hunter buys a high-end drum equipment for Kevin with his father's credit card without telling him, despite Kevin's initial reluctance to make music. Initially, it's all about Hunter's desires. And music serves as a bridge for them to connect. However, as the film progresses, Kevin finds he has a hidden knack for drumming. Emily is drawn to his after-school training sessions at school. They collaborate on an instrumental cover of 'War Pigs.' Realizing Emily could be the bassist they're seeking for, Kevin approaches Hunter, who immediately dismisses the notion, evidently holding misogynistic beliefs that ladies can't be in heavy metal bands. He also believes that a cellist cannot be a bassist.
Emily and Kevin begin to develop a love relationship. When Hunter insults Emily in public, inciting her fury, a schism develops between him and Kevin. And their band appears to disband. Kevin then agrees to perform at a wedding with Mollycoddle. Hunter disguises himself as a Kiss member and attempts to crash the wedding, but is apprehended before he can do so. His father then sends him to rehab, where he encounters one of Hunter's idols, Troy Nix.
Kevin eventually lets Hunter leave, along with Mollycoddle's drummer, who has also been a resident at the facility. Hunter apologizes to Emily, but she does not appear to be joining their band. Mollycoddle plays a cover of Imagine Dragons' "Believer" at the Battle of the Bands, and it is warmly received. Emily, dressed like a true rocker and armed with an electric cello, arrives just as Kevin and Hunter are about to take the stage. However, the dean states that the trio cannot perform on stage with the moniker Skullf***er, so Emily devises a strategy and changes it to Skullflower. The audience erupts in applause as they sing their original song, "Machinery of Torment."
Several pieces of sound equipment, however, fall on Hunter, wounding him. Mollycoddle is later revealed to have won the Battle of the Bands. Skullflower members, on the other hand, aren't too concerned because they know this is just the beginning for them. As the film concludes, they start playing "War Pigs" again.
Duration: 97 min
Release: 2022