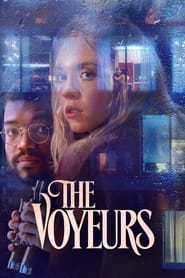 The Voyeurs Review: Is an Average Erotic Thriller With a Shocking Ending
Voyeurism has been addressed extensively in film and television, most notably in Alfred Hitchcock's Rear Window and the eerie Netflix series You. We follow Pippa (Sydney Sweeney) and her boyfriend Thomas (Justice Smith) as they get enamored with a couple who live across the street after watching them having sex.
It turns out that this couple is photographer Seb (Ben Hardy) and model Julia (Natasha Liu Bordizzo), a seemingly perfect match. They're both creative types living in a Montreal apartment who appear to have it all, but that's not going to be the case. And as Pippa's obsession with the couple increases, we begin to learn more about them, including their real names (Prippa and Thomas christened them Bryan and Margot before learning this).
The Voyeurs is tremendously far-fetched in many ways, the first being the pair's ridiculously expensive apartment despite their youth, but it's also difficult to fully comprehend why Pippa, in particular, would get so engrossed in this couple across the street. Sure, watching other people seems to liven up their own sex life, but it soon turns from harmless fun to deadly obsession. Much like You, it's perplexing that no one seems to own blinds or drapes in these types of thrillers, but to each their own.
But if you can get beyond some of the implausibilities, this sensual thriller could be entertaining. We find, somewhat inevitably, that Seb has been seducing many of his female models, putting him in conventional "shady photographer" area and shattering the notion that Seb and Julia had some sort of flawless relationship. This motivates Pippa to take matters into her own hands and go even further into their private lives, a rabbit hole from which she may never entirely emerge.
This film is full of twists and turns, and all four characters soon become intertwined in a web of deceit, seduction, and mystery. They eventually meet after Julia has an appointment at the opticians where Pippa works, and things go worse from there. Decisions are taken that seem completely out of character, although this could be interpreted as a decline into insanity and a break from the norm. The final sequence, in particular, is shocking yet deliciously ironic, and it's the type of finale that will undoubtedly divide viewers owing to how jarring it is.
The Voyeurs is undoubtedly visually appealing, with a lot of elegant set design and fine camerawork, and the sex scenes are precisely what you'd expect from a self-proclaimed erotic thriller. (In other words, explicit!) This film doesn't achieve anything innovative, and it doesn't have a very highbrow plot, but it's amusing and keeps you guessing, which is perhaps all you really need from a picture like this.
Overall, The Voyeurs is a mediocre thriller that will undoubtedly divide aficionados of the genre. It's best to go in with modest expectations and just want to have fun, allowing yourself to get lost in the drama and the inevitable betrayals that occur during the film. It raises some interesting themes about privacy, technology, and, of course, sex, but it's ultimately a forgettable picture that will be quickly replaced by another one like it for those who can't get enough of this type of film.
Duration: 116 min
Release: 2021