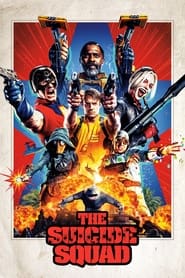 The Suicide Squad Review
Taking a break from directing a mainstream-friendly Marvel film (don't worry, he'll be back for 'Guardians of the Galaxy Vol. 3'), James Gunn made his DC debut in 'The Suicide Squad,' which is sort of a redo of David Ayer's critically panned but financially successful 'Suicide Squad' that was released five years ago — never mind that it features some of the cast reprising their roles from the first film (Mar
'The Suicide Squad' is not a sequel or a straight continuation, and it works best as a stand-alone film. Personally, I would prefer if Gunn chose to make this a sequel rather than a redo, reboot, or whatever you want to call it. Maybe it's just me, but the first 'Suicide Squad' wasn't as horrible as everyone claims. Sure, the original picture had some flaws, like as sloppy editing and underpowered characters (Karen Fukuhara's Katana and Adam Beach's Slipknot immediately come to mind). However, it had its highlights, particularly the well-crafted music, and Margot Robbie and Will Smith were both excellent as Harley Quinn and Deadshot, respectively. Unfortunately, due to scheduling problems, the latter will not be returning in James Gunn's version.
Instead of recasting Will Smith's Deadshot, Gunn made the wise decision to introduce Idris Elba as Bloodsport, who likewise possessed the same sharpshooting prowess as a world-class marksman. Amanda Waller put him in charge of a mission to find the villainous scientist known as the Thinker (Peter Capaldi) in the fictional Latin American island country of Corto Maltese, the mastermind behind Project Starfish's scientific experiment. And, of course, destroy anything associated with the endeavor.
Bloodsport is joined in the quest by a cast of eccentric individuals, beginning with the helmet-wearing Peacemaker (John Cena) and Ratcatcher 2 (Daniela Melchior), who can communicate with and manage mice. Others include Polka-Dot Man (David Dastmalchian), who dresses up in a comical polka-dot suit and can physically shoot bright polka dots, and Nanaue (Sylvester Stallone), a walking-and-talking Great White Shark in a humanoid body with superhuman strength and a tremendous nom-nom taste for human meat.
Getting James Gunn on board for a team-up film like 'The Suicide Squad' is still a wise decision, given his prior experience making such films in the first two 'Guardians of the Galaxy' films. He even gets to embrace his B-movie sensibility in all of its R-rated glory here. One that revels in being violent, gory, and vulgar. Gunn, who also authored the script, had a great time inserting as much sarcastic and unpleasant fun as he could. The opening sequence showing Flag's first team entering the Corto Maltese beach is one of the greatest examples here, packed with WTF moments (watch out for the dude who called himself T.D.K., played by Gunn's best friend Nathan Fillion).
The overall 'Dirty Dozen'-style men-on-a-mission storyline technique has a few hiccups here and there, and the film's 132-minute runtime is far too long for its own benefit. A faster pacing would benefit the film. Meanwhile, the needle-drop music, which should have been perfectly in Gunn's wheelhouse (his 'Guardians of the Galaxy' movie were proof), is disappointingly less memorable this time around.
But, if you can overlook some of its flaws, 'The Suicide Squad' is a better over David Ayer's 2016 version. The action is well-staged and has enough vigor (the complex sequence in which Harley single-handedly defeats a small army is worth mentioning), but the special effects aren't as mind-blowing as I'd expect from a comic-book film these days. In terms of the latter, special mention must be made of the seamless CG character of Nanaue, as well as the lengthy effects-heavy ending.
The ensemble cast is also impressive, with Gunn making full use of Margot Robbie's perfectly zany role as Harley Quinn and Idris Elba giving a typically engaging performance as Bloodsport. The remainder of the cast, including David Dastmalchian and Sylvester Stallone, execute deadpan performances as Polka-Dot Man and Nanaue, respectively. Not to mention John Cena, who portrays Peacemaker, and Daniela Melchior, who plays Ratcatcher 2, the latter of whom lends the otherwise outrageously vicious film a much-needed heart and soul. Despite the fact that Viola Davis' Amanda Waller spends the majority of her screen time in a control room overseeing her squad's mission, Gunn allows her enough leeway (pun intended) to shine in her ferociously dominant role. As in Gunn's picture, Michael Rooker, a regular collaborator, makes a notable appearance as the unhappy Savant.
Remember not to leave your seat or click away (if you're watching on HBO Max) because 'The Suicide Squad' wants you to stay with a post-credits teaser.
Duration: 132 min
Release: 2021