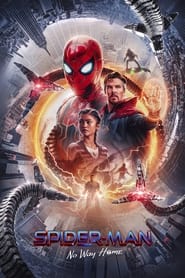 Spider-Man: No Way Home Review
The discussion over who is the best Spider-Man can go on indefinitely. While some of us millennials are too attached to Sam Raimi's 2000s escapades, others are too tied to Andrew Garfield's charm (regardless of how 'lame' those movies were). However, no one could deny that Tom Holland's Spider-Man fully reflected what the superhero truly stands for. Let's be honest: Spidey is a sensitive guy. The fact that his past and present are both founded on trauma accounts for the majority of his strength. Despite his heroic origins, he is a child learning about the world around him while also learning to control this unwelcome duty that has been placed on his shoulders.
While the other two live-action Spider-Mans were older and had a little more time than Holland's Peter Parker to live an alternate persona (apart from their superhero hijinks), the MCU threw him right into a world of demi-gods and super-dudes warring among themselves before he could be human. In Spider-Man: Homecoming, indie director Jon Watts gave him a more hearty, engaging, and lighthearted makeover despite the fact that he is clearly disabled from having any type of origin tale. This was essentially a narrative about a kid with a special ability attempting to negotiate the difficult life of a teenager in high school.
This solidified Spider-Man as more than just the nice neighborhood web-slinger, but as a young child who simply wants to do good while enjoying the kind of fun that kids his age generally have. The sequels and subsequent MCU excursions (particularly the previous couple of Avengers films) put Spidey in even more high-stakes scenarios. I mean, not just on a cosmic level, but also on a more personal level. Only Holland's Peter Parker and his relationship with Iron Man left viewers in a state of full emotional breakdown.
Watt's Spider-Man: No Way Home, which begins nearly immediately after Jake Gyllenhall's Mysterio reveals Spider-true Man's identity in Spider-Man: Far From Home, raises the stakes even higher for Peter. However, if one is familiar with director Jon Watts and his joyous but humorous self-aware comedy, raising the stakes temporarily implies that Peter and his buddies must now strive to get into a college of their choice.
Because universities have taken the recent identity reveal and Ned's (Jacob Batalon) and MJ's (Zendaya) participation in Parker's life into account, the trio is now having difficulty getting into college. When Peter realizes that his true identity has caused problems for his two closest friends, he makes the rash decision that there is only one man who can help him.
Reenacting his most recent performance with Doctor Strange (Benedict Cumberbatch), in which the group turned back time to rectify things, Peter arrives at Strange's doorstep for assistance. He essentially asks Strange to perform a spell in which everyone in the world forgets that he is Spider-Man, only to sabotage Strange's spell with his rushed, foolish, last-minute adjustments.
This blunder to a powerful magical ritual causes a physical tear in the fabric of reality. According to Strange, the spell going wrong implies that everyone in every other reality who knows anyone named Peter Parker has been affected by it. So much so that the concept of a multiverse (which has been hinted countless times before) finally sees the light of day.
Jon Watts manages to keep his film running on human emotions despite its splendor, grandiosity, and epic size. Consider Peter's inability to finally enjoy a pleasant little moment with the love of his life. The entire second film is built up of scenes that build up to MJ finally learning who Peter is, only to have that knowledge snatched away from the two. Another dilemma that relies on the film's small scale is Spider-Man: One of the Many Superheroes Who Saved the World not being able to get into college because he is not a simple kid from Queens but Spider-Man: One of the Many Superheroes Who Saved the World. Third, and most significantly, even when the scope expands into the multiverse, Spider-core Man's conflict is based on the fact that he is his Aunt May's child who believes in helping others. Spider-motives Man's are always compassionate, even when the threat escalates to the grandiosity of evil showdowns.
Spider-Man: No Way Home depicts the character's death, trauma, and loneliness from the comics. Because 'Home' has various meanings in each of the three MCU Spidey films, the overall trilogy, and this film in particular, is an emotionally stirring and magnificently satisfying movie-watching experience.
Jon Watts' sense of humour is bang on. Even in its darkest, most desolate passages, the picture feels as though it's floating on a feather-band. The fast back-and-forth between characters, along with typical MCU self-deprecating humour, truly gels into Holland's Spider-Man and the others around him. The action moments are stunning, especially the Doctor Strange mirror universe and the bridge sequence. In comparison, the final 40 minutes (which are jam-packed with one fight sequence after another) are a pure CGI-fest that doesn't quite meet up.
In terms of casting, there are some unexpected new arrivals who largely feel like they have earned a role in the larger scheme of the tale here. They aren't forced cameos that provide a little fan service and then slip into obscurity. All of them are here for a reason, for a specific goal, and Watts makes it tremendously easy for us to root for each and every one of them. However, the most appealing aspect of Spider-Man: No Way Home is its ability to grasp the concept of finality. In its own metaphysical manner, the film pays homage to Spider-heritage Man's as a hero, leaving long-time fans with the warm sense of Christmas arriving a few weeks early, and newcomers with a smile as wide as Times Square on a sunny day.
Duration: 148 min
Release: 2021