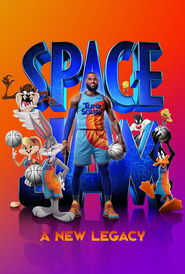 Space Jam A New Legacy Review – Is Silly But Enjoyable
Twenty-five years ago (yes, it has already been that long), the live-action/animation hybrid 'Space Jam,' which starred NBA icon Michael Jordan and an eclectic cast of Looney Tunes cartoon characters in a high-stakes basketball game, was a fan favourite. Jordan was at the pinnacle of his career, having led the Chicago Bulls to a championship victory over the Seattle SuperSonics in the 1996 NBA Finals. And having him in 'Space Jam' was a nice bonus. A unique combination of novelty and timing.
Following the great success of 'Space Jam,' which grossed over $250 million against a $80 million budget, there was meant to be a sequel starring Jordan. However, the concept did not go as planned, and it languished through development purgatory until Los Angeles Lakers' LeBron James joined the team. Rather than a true sequel, 'Space Jam: A New Legacy' is a reboot aimed at both older and younger audiences, while it does acknowledge the presence of the previous film in some ways.
The plot revolves around LeBron James, whose younger son (Cedric Joe's Dom) is abducted by a cutting-edge algorithm in Warner Bros.' virtual world known as the Warner 3000 Server-Verse. The algorithm in issue is known as AI-G Rhythm (Don Cheadle), a manipulative and power-hungry A.I. who prefers to be visible rather than remain anonymous at all times. AI-G Rhythm was first attempting to persuade Warner Bros. executives (Sarah Silverman and Steven Yeun appeared in cameos) to persuade LeBron with a potential money-making offer that would assist the studio's prospects. However, LeBron rejects the proposition entirely, leaving AI-G Rhythm distraught.
As a result, he ends up kidnapping Dom, who is with his father at the pitch meeting. To reclaim his son, LeBron must participate in a basketball challenge on AI-G Rhythm's server. The AI-G Rhythm then gives LeBron a certain time to gather his team before the game begins.
From there, LeBron's only chance of winning the game is to join forces with the Looney Tunes, commanded by Bugs Bunny (voiced by Jeff Bergman). It's perplexing that a live-action/animation combination like 'Space Jam: A New Legacy' need six screenwriters to create a script. As a result, the film is bloated and about two hours long, which is 30 minutes too long. In comparison, the original film was roughly 90 minutes long. The new film even makes an effort to elicit emotion and includes the necessary moral lessons about the importance of family and looking out for one another. This is especially true of LeBron James and Cedric Joe's father-son dynamic. The problem is that LeBron isn't a good enough actor to play such a part. He's clearly more at ease showing up on a court (real or virtual) and playing some basketball. However, when it comes to emoting and acting, he comes across as disappointingly wooden.
Fortunately, the remainder of the cast is adequate in their roles, beginning with Cedric Joe's supporting appearance as Dom James, the alienated younger son. Don Cheadle clearly enjoys portraying the despotic AI, and it's great to see the old Looney Tunes characters return to the big screen (or tiny screen if you're watching 'Space Jam: A New Legacy' on HBO Max).
Malcolm D. Lee ('Barbershop: The Next Cut,' 'Girls Trip), who replaces Joe Pytka from the first picture, does a good job of tying everything together. The film may have been too long and might have benefited from some significant editing. However, it was visually distracting enough to keep you somewhat interested with (clearly) superior, though ostentatious special effects while the film goes so far as to cram in famous IPs. And there are many of them, most notably the elaborate scenario in which LeBron and Bugs Bunny bring together the rest of the Looney Tunes characters.
In 1942's black-and-white classic 'Casablanca,' for example, Yosemite Sam appeared in a scene. There are blink-and-you'll-miss-them cameos ranging from Adam West's Batman to Jim Carrey's The Mask (only the character, not the actor) and even recognisable animation characters such as Fred Flintstone and the Iron Giant.
The virtual basketball game, which lasts around an hour, features a few amusing moments. Overall, 'Space Jam: A New Legacy' may feel like a cash grab for the purpose of nostalgia, but with the present hardships of living in the pandemic era, it's beneficial to watch/stream a film like this. The kind that just wants you to sit back and enjoy the show, no matter how ridiculous it becomes.
Duration: 115 min
Release: 2021