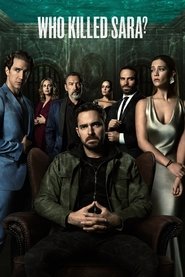 Who Killed Sara Season 4 Renewed or Cancelled?
Season 3 of Netflix's 'Who Killed Sara?' (original title: 'Quién mató a Sara?') continues the complicated mystery and even explores the idea that the titular character is still alive. The Mexican mystery drama has received rave reviews since its introduction in March 2021, with two seasons occurring in fast succession. Following the premiere of Season 1, it even became Netflix's most popular non-English title.
José Ignacio Valenzuela developed and co-wrote the story of wrongfully convicted Alex Guzmán, who gets out of jail after 18 years, hellbent on finding his sister's killer. Season 3 adds to the story with more of its trademark explosive plot twists and introduces some intriguing characters, including one played by Jean Reno! So, how does the show's future look? Here's all we know about season 4 of 'Who Killed Sara.'
Is Season 4 of Who Killed Sara canceled?
Season 3 of 'Who Killed Sara?' launched on Netflix on May 18, 2022. All seven episodes, each roughly 40 minutes long, were released at the same time.
Season 4 appears unlikely. Fans of the Mexican mystery thriller may be upset to find that Netflix announced in the tweet below that season 3 would be the final part of the plot. The explosive plot, on the other hand, has utilised its three seasons effectively, creating a complicated mystery and significant character depth.
The plot begins with Alex getting released from prison and taking on the affluent Lazcano family, who wrongfully accuse him of Sara's death. As Alex digs deeper, secrets about the Lazcano family and his own sister repeatedly throw the plot on its head. The Lazcanos are in ruins by the time season 3 arrives, and Alex discovers Sara has a daughter.
After a breathless run, the show's final season ultimately solves the mystery, ending most of the key plotlines and providing sweet justice to some very deserving characters. The story comes to an end almost as suddenly as it began. In fact, judging on how quickly the show released three seasons in little over a year (season two premiered in May 2021), it appears that the title was intended to be quick and impactful.
'Who Killed Sara?' has plainly concluded, with the titular mystery solved and the protagonists settling into a new normal. However, its success is likely to have inspired more Mexican and Spanish titles, whose lengthy themes and telenovela-like drama appear to thrive in the subscription content arena. We can certainly anticipate more shows as fascinating as this one. However, it is exceedingly improbable that a fourth season of 'Who Killed Sara' would ever be produced.