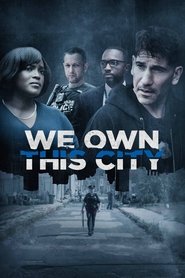 We Own This City Finale Ending Explained
The finale of 'We Own This City,' titled 'Chapter Six,' finishes the saga of the Gun Trace Task Force, as some members of the elite plainclothes team face hefty prison sentences for their crimes. Meanwhile, the Baltimore Police Department is facing serious consequences as a result of the cooperation agreement and the conviction of its officers.
Finally, Baltimore is preparing for a new age of policing with various reforms, but the risks of reverting to old practices remain. We've got you covered if you want to catch up on the episode's events and conclusion! Here's all you need to know about the episode 6 finale of 'We Own This City!' WARNING: SPOILERS AHEAD!
Recap of We Own This City Episode 6
'Chapter Six,' the sixth and final episode of 'We Own This City,' begins with FBI Agent Erika Jensen and John Sieracki questioning Wayne Jenkins about his position in the Gun Trace Task Force and its corruption. Jenkins, on the other hand, is adamant that he is not a dirty cop and that he has done nothing illegal. Jensen, on the other hand, reminds Jenkins that collaborating with the FBI and offering vital information to the authorities may result in a lesser sentence. Furthermore, Jenkins' coworkers have spoken out against him, and multiple witness testimony show that as a cop, Jenkins was involved in dishonest and unlawful activities. Jenkins, though, continues to refuse to accept responsibility for the wrongdoings.
Later, Jensen and Sieracki discuss the Umar Burley case with Detective Sean Suiter. Suiter is expected to speak in court and confirm who put the gun on Burley. Suiter, on the other hand, gets apprehensive about losing after realizing he can't disguise his knowledge of plainclothes cops stealing money from residents. Meanwhile, Momodu "G Money" Gondo, Jemell Rayam, and Maurice Ward continue to provide the FBI with vital information. They reveal Jenkins' relationship with Donald Stepp, who assisted the cop in selling seized drugs.
Concerns have been raised at BPD about the department's ability to comply with the consent decree despite a significant lack of money. The Mayor flatly refuses Commissioner Kevin Davis' request for increased budgeting. As a result, he must reduce the compensation of his officers to cover the costs of the reforms. Stepp is arrested, and Keith Gladstone is being investigated in connection with the Demetric Simon case. Stepp and Gladstone both offer embarrassing information concerning Jenkins' behavior. Nicole Steele resigns from her job as a result of the Department of Justice's incapacity to combat corruption and crime in the city. Sean Suiter dies a day before his grand jury testimony, as the GTTF cops prepare for their punishment.
Finale of We Own This City: What Sentences Did the GTTF Officers Receive?
As the show progresses, the flaws in the Baltimore Police Department's system and approach to crime suppression become clear. As a result, it is critical that GTTF personnel reserve harsh sentence as a beacon of hope for better and more constitutional policing in the city. Jenkins eventually pleads guilty to some of the accusations leveled against him and maintains his position that he did not plant the narcotics on Umar Burley. Jenkins, on the other hand, admits to filing a fraudulent report in the case. Jenkins accepts his fate and apologizes for his misdeeds. He was sentenced to 25 years in prison for his failure to cooperate with the inquiry.
Meanwhile, Gondo and Rayam are sentenced to 10 and 12 years in prison, respectively. Ward and Hendrix entered guilty pleas in court and agreed to cooperate with the investigation. As a result, the cops are sentenced to seven years in prison. Thomas Allers also refuses to comply with the federal probe, which might result in a 15-year prison sentence. Daniel Hersl and Marcus Taylor have refused to enter a not guilty plea and will face a federal trial. They are found guilty and sentenced to 18 years in jail. Following the officers' punishment, Commissioner Davis folds the plainclothes unit and is sacked from his position.
Over the next few months, several high-ranking officers and the Mayor will be charged in corruption cases. The new commissioner, Darryl DeSousa, reinstates the plainclothes unit. DeSousa, on the other hand, is forced to resign four months into his service after being convicted of federal tax evasion. Mayor Cathrine Pugh has also been charged with tax evasion and fraud, which carries a three-year prison sentence. These occurrences demonstrate the city's deplorable state of law and order.
Finally, the episode revisits Jenkins' drug and gun tracking mission from the first episode. Jenkins steals a quantity of money during their house search. These incidents are set against images of Jenkins in prison. Jenkins thinks on his conduct as a cop as he adjusts to life in prison. In a flashback, Jenkins addresses a gathering of cops, including several officers with whom he would work as a member of the GTTF. Jenkins' lecture concludes with loud applause from the police, who have bought into his mindset. The episode concludes with a glimpse of Jenkins in prison, leaving viewers to consider the city of Baltimore's deep role on the GTTF corruption scandal.
Views: 342
Genre: Crime, Drama, TV Shows Explainers
Director: David Simon, George Pelecanos
Actors: Dagmara Domińczyk, David Corenswet, Delaney Williams, Don Harvey, Ian Duff, Jamie Hector, Jon Bernthal, Josh Charles, Larry Mitchell, Lucas Van Engen, McKinley Belcher III, Rob Brown, Wunmi Mosaku