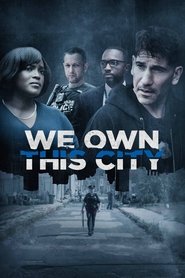 We Own This City Episode 3 Recap and Ending Explained
The third episode of 'We Own This City' explores the corruption within the Baltimore Police Department's Gun Trace Task Force. While the episode, dubbed 'Part Three,' depicts the department's highest level of corruption through FBI Agent Erika Jensen's investigation, it also highlights the efforts of the other cops who are simply trying to perform their jobs and keep the city safe. As a result, the episode presents a narrative contrast and forces viewers to question the GTTF officers' behavior. Here's everything you need to know about 'We Own This City' episode 3 if you want to catch up on the episode's events and ending! WARNING: SPOILERS AHEAD!
Recap of We Own This City Episode 3
The third episode, dubbed 'Part Three,' begins with Sergeant Thomas Allers chatting with his lawyer at the FBI Detention Center after he and his fellow GTTF members were arrested. Allers' lawyer advises him that the other cops are willing to testify in court against their superior. As a result, Allers may face serious penalty for his crimes. Daniel Hersl's supervisors inform him of the complaints against him in a flashback to 2016. As a result, he has been moved to a new department. Hersel is sent to the Gun Trace Task Force at Allers' request.
Hersl later joins Allers, Momodu "G Money" Gondo, and Jemell Rayam on his first GTTF raid. During the raid, police detain Devaughn Robinson, who is suspected of having ties to drug dealers. Later, the GTTF investigates Robinson's home and discovers firearms hidden among his possessions. During the raid, Allers steals $10,000 from Robinson without his team's knowledge. Meanwhile, Kevin Davis and Nicole Steele review the plea bargain. However, he raises concern about how the change in mayor may effect the accord.
In other news, Agent Jensen continues to tap BPD cops, while Wayne Jenkins enjoys serving as a plainclothes officer. Sean Suiter is investigating a homicide case when he meets officer Jaquan Dixon, who offers to assist him. Steele meets with activist Tariq Touré to discuss the status of policing in Baltimore. Jenkins appreciates the additional money he earns by misusing his authority as a plainclothes officer. Jenkins' bosses taught him how to write flawless reports to justify his use of excessive force on the street. Suiter solves the murder case with Dixon's assistance, but a sequence of flashbacks reveal his association with Jenkins and other corrupt BPD cops.
Is Suiter a Corrupt Cop in We Own This City Episode 3?
The second installment of the series spotlights Sean Suiter and his work as a homicide detective in the BPD. Suiter's work differs from that of the GTTF in that it is less spectacular and involves true citizen cooperation. However, as seen in the third episode, Suiter's job has grown tough due to the BPD's poor reputation in the aftermath of Freddie Gray's death. Furthermore, individuals are scared to interact with police because of the violent activities of plainclothes units on the streets.
While Suiter's character serves as a thematic counterpoint to the show's plot, the episode's conclusion also serves as a moral counterpoint. Finally, viewers learn about Suiter's previous life as a plainclothes officer. Suiter was partnered with Jenkins, which raised concerns about his integrity as a cop. Suiter has previously stated that he had collaborated with Gondo. Suiter is mocked by Gondo for working in the homicide section because it pays much less. During a drug dealer raid, Jenkins insists on taking the money from the sellers for their personal use. Suiter, on the other hand, is opposed to the proposal. As a result, Suiter is clearly one of the better cops in the BPD who cares about the city's policing situation.
Suiter's efforts in homicide investigations demonstrates his dedication to his duty as a police officer. Furthermore, Suiter and Dixon symbolize the BPD's excellent cops who want to perform their jobs. Suiter's predicament contrasts with those of other cops, such as Jenkins and Allers, who believe that their job is making a difference on Baltimore's streets. In actuality, they are simply padding their pockets while the BPD's reputation suffers.
Views: 84
Director: David Simon, George Pelecanos
Actors: Dagmara Domińczyk, Darrell Britt-Gibson, David Corenswet, Delaney Williams, Don Harvey, Ian Duff, Jamie Hector, Jon Bernthal, Josh Charles, Larry Mitchell, Lucas Van Engen, McKinley Belcher III, Rob Brown, Wunmi Mosaku