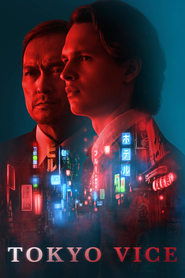 Tokyo Vice Episode 6 and 7 Recap and Ending Explained
In 'Tokyo Vice,' there are four primary characters: Jake Adelstein (Ansel Elgort), Hiroto Katagiri (Ken Watanabe), Samantha Porter (Rachel Keller), and Sato (Show Kasamatsu). They represent the four facets of the Kabukich district: journalists, cops, yakuza, and nightlife. Chihara-Kai discovers that Tozawa is bringing in a shipment of meth and informs Jake about it in episode 6, titled 'The Information Business.' Jake, in turn, calls his police contacts.
Samantha informs Sato about Matsuo, forcing the yakuza member to intervene. Samantha grows concerned when Polina goes missing in episode 7, titled 'Sometimes They Disappear.' Jake assists Eimi (Rinko Kikuchi) with a story on a string of crimes in which the female victims were murdered by their partners. Meanwhile, Katagiri creates a trap for a corrupt police officer. Here's everything you need to know about the episode 7 finale of 'Tokyo Vice.' WARNING: SPOILERS AHEAD.
Recap of Episodes 6 and 7 of Tokyo Vice
In the sixth episode, Following the failed attack on Ishida, Chairman Nakahara, the head of the yakuza's western division, travels to Tokyo for a peace meeting with high-ranking members of Chihara-Kai. He orders Tozawa to bow and apologize to Ishida, in addition to giving a large sum of money to the de-facto leader of Chihara-Kai. After Ishida and the others have vanished, it is revealed that Nakahara dispatched Tozawa to Tokyo to conquer the east for them and was aware of the plot to assassinate Ishida. Before leaving, he warns Tozawa not to make the same mistake again.
Jake receives information regarding Tozawa's meth cargo from Ishida. When he takes it to Katagiri, the latter tells him they will wait, much to Jake's chagrin. Jake speaks to Maruyama after chatting with Eimi, who reminds him that he does not work for Katagiri, and appears to persuade him to perform a raid. However, nothing appears to have been discovered, and Jake's carefully cultivated contacts with the Japanese police are jeopardized as a result.
In episode 7, Eimi instructs Jake to investigate a case in which a woman was murdered by her partner. She feels it is part of a trend of homicides occurring as a result of the police ignoring the women's requests for aid against their violent boyfriends. Despite Eimi and her team's efforts and the significance of the topic, the item is ultimately published on one of the inside pages and receives no attention. Aside from assisting Eimi with her essay, Jake attempts to use Misaki, Tozawa's mistress, as a source. Meanwhile, Tozawa collapses during a public event, unwittingly revealing that something is wrong with him.
Ending of Tokyo Vice Episode 7: Which Police Officer Is Corrupt?
Miyamoto is shown to have been providing information to Tozawa near the end of episode 6. What Ishida said to Jake was correct. That plane did had meth in it. However, Miyamoto, who led the search, assured that the medicines would not be discovered. So, even though the drug route is always near to Tozawa, the gang members remain outside of police custody. Katagiri decides to put up a trap after the body of the engineer who recovered the medications for the Tozawa washes up.
He informs other agencies that Organized Crime is on the verge of apprehending Tozawa, which causes Miyamoto to come snooping. Katagiri informs him that they had been working on a case against Tozawa for months, and that the engineer was their informant. He also informs the other officer that all evidence against the yakuza leader is being stored in a subterranean room.
Miyamoto then goes to see Tozawa, who instructs him to find out what kind of proof Katagiri has. He also vows that this is the last thing Miyamoto will do for him. However, when Miyamoto enters the room, all he discovers are empty crates. A camera is mounted on the wall. Katagiri, on the other hand, is keeping an eye on him. Miyamoto thinks he's been caught red-handed.
Is Matsuo still alive?
The sixth episode begins with Samantha receiving a voicemail from a concerned Polina, who asks why she hasn't been returning her calls. She subsequently meets Matsuo and discovers that her father has hired him. Instead of returning home and confronting her father, Samantha agrees to ten sessions with Matsuo. However, she informs Sato of this, who attempts to intimidate Matsuo but learns that the other man has ties to high-ranking members of Chihara-Kai. He then falls to his knees and implores Matsuo to leave Samantha alone. Sato beats Matsuo to death after he reacts with obscenities.
Polina, where are you?
Polina is an East European expat living in the United States. She is scooped up by a black automobile at the opening of episode 7 and hasn't been seen or heard from since. The situation shifts 180 degrees, and Samantha is suddenly concerned about Polina. She seeks Sato's assistance in determining what happened to her companion. Sato threatens Polina's boyfriend, who admits that she owes a lot of money to a local club. Sato interacts with the owner and discovers that Polina has been taken to Yoshino, most likely to repay her debt through sex labor. After Sato and Samantha's relationship appears to be over, Samantha approaches Jake for assistance in locating Polina.
Views: 374
Genre: Crime, Drama, TV Shows Explainers
Director: J.T. Rogers
Actors: Ansel Elgort, Ella Rumpf, Hideaki Ito, Ken Watanabe, Rachel Keller, Rinko Kikuchi, Sho Kasamatsu, Tomohisa Yamashita
Studio: Endeavor Content, WOWOW