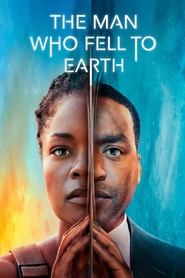 The Man Who Fell to Earth Episode 2 Ending Explained
The second episode of 'The Man Who Fell to Earth,' titled 'Unwashed and Somewhat Slightly Dazed,' begins with the titular character, Faraday, in exactly that situation. Our hero travels off to his next destination, Seattle, after emerging from a tornado with new instructions. Meanwhile, Justin Falls' perplexing adventure continues as she reluctantly joins Faraday's expedition.
We also catch glimpses of the menacing Newton, who appears to walk the edge between humanity and aliens. It was also only a matter of time until the CIA got involved, which they have now done. In 'The Man Who Fell to Earth' episode 2, there's a lot to untangle. WARNING: SPOILERS AHEAD.
Recap of The Man Who Fell to Earth Episode 2
Episode 2 opens up right where the first episode left off, with Faraday and Newton speaking in a bizarre, surreal forest. It is revealed that the latter is likewise from the faraway planet Antheon and traveled to Earth in search of water. He appears to have grown distracted by earthly vices, and he is now bitter. Newton also verifies that Faraday has contacted Justin Falls and directs him to travel to Seattle.
Faraday emerges from the tornado coated in mud after his talk with Newton. Initially there to help him, Justin drives away after being taken aback by his appearance. The alien then makes his way to a neighboring diner, where the sympathetic waitress, after a strange encounter with Faraday, directs him to the airport so he may fly to Seattle. However, the radiation at the airport causes him to fear, and after being jailed, Faraday demands that Justin pick him up once more.
Meanwhile, the aliens' encounter inside the storm piques the interest of intelligence services, who discover that a very similar "anomaly" occurred forty-five years previously. Dr. Gregory Papel, the sole surviving member of the CIA who was present during the initial anomaly, currently resides in an Alaskan forest. When agent Spencer Clay finally apprehends him, the doctor is in a disordered state of mind and kills himself after delivering largely unintelligible warnings.
What Does Faraday Do to Justin's Father in The Man Who Fell to Earth Episode 2?
Back at Justin's house, Faraday is surprised that her frail father is still alive. The alien is perplexed as to why valuable planetary resources are being spent on a being that has outlived its usefulness.
When Justin refuses to take Faraday to Seattle, claiming she needs to care for her father, the alien enters the elderly man's room while he is sleeping and begins gently squeezing his throat. Soon after, Josiah Falls' neck glows, and the episode ends with him standing over Faraday, who has collapsed to the floor.
The final scene gives us another intriguing look of Faraday's otherworldly abilities, such as supersensitivity to many stimuli and the slightly amusing capacity to spew gold. The alien appears to have cured Justin's father, Josiah, of the crippling degenerative sickness that was hurting him by touching him. The final scenes show the fragile and elderly man standing upright and recovering control of his hands. Justin is likewise taken aback by her father's arrival.
However, it appears that Faraday cannot just cure someone, but must instead take on their ailment. As a result, we see Faraday on the ground, suffering from the same illness as Josiah. The alien's new Newtonian directive is the motivation behind this seemingly self-destructive action.
Faraday explains that having Justin drive him to Seattle would be the quickest way for him to get there. Because Justin is unable to leave owing to her father's illness, Faraday cures him in the hopes that it will persuade her to accompany him to Seattle. It has to be seen whether Justin agrees, but given the high cost Faraday paid to treat her father, it appears that she will.
What is Faraday's motivation for traveling to Seattle?
Faraday wishes to travel to Seattle in pursuit of a corporation known as Origin. Newton briefly (and bitterly) mulls about the tech firm he founded, which was later "stolen" from him at the start of the episode. Newton sends Faraday to Seattle, requesting that he return it. With no more instructions received, it is unknown what Faraday will do when he arrives to Origin. The encounter with Newton and his orders also strongly imply that the bitter-looking extraterrestrial, who has been on Earth for much longer than Faraday, has his own plots and isn't looking out for the best interests of his home planet.
Why does Dr. Gregory Papel commit suicide?
Dr. Gregory Papal is a CIA psychiatrist who was present when a tornado identical to the one Faraday sees occurred forty-five years ago. The doctor confesses to the CIA agent, through fractured phrases, that Gregory and his colleagues apprehended and tortured the first being. He goes on to allege that the interrogators poked the alien's eyes out and made him crazy. Dr. Gregory shoots himself shortly after revealing this.
The elderly doctor's anxious behavior indicates that he is terrified. The explanation for this is most probable that all of his coworkers from the moment they encountered the first alien are now deceased. As a result, Dr. Gregory believes he may suffer the same fate. He is also filled with remorse for torturing the alien and turning it into a terrible creature. The doctor appears to commit suicide for these two reasons. Also, in case you missed it, the extraterrestrial tormented by Dr. Gregory all those years ago is most likely Newton.
Views: 104
Genre: Drama, TV Shows Explainers
Director: Alex Kurtzman, Jenny Lumet
Actors: Annelle Olaleye, Bill Nighy, Chiwetel Ejiofor, Clarke Peters, Jimmi Simpson, Joana Ribeiro, Kate Mulgrew, Naomie Harris, Rob Delaney, Sonya Cassidy
Studio: CBS Studios, Secret Hideout, StudioCanal, Timberman/Beverly Productions