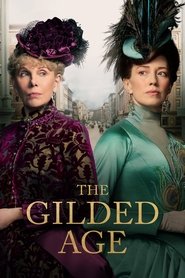 The Gilded Age Episode 3 Recap and Ending Explained: Is Mr. Morris Dead?
George Russell (Morgan Spector) faces an unprecedented struggle at work in 'The Gilded Age' episode 3, when the city alderman decide to back out of their arrangement with the railway mogul. While actively pursuing Gladys, Oscar (Blake Ritson) maintains his secret tryst with John Adams. A man from Ada's (Cynthia Nixon) past comes to woo her, but he may have ulterior purposes. Tom Raikes (Thomas Cocquerel) demonstrates his bravery. Meanwhile, Bridget is invited to a Magic Lantern Show by Jack Treacher. Here's all you need to know about the episode 3 finale of 'The Gilded Age.' WARNING: SPOILERS AHEAD.
Recap of The Gilded Age Episode 3
The third episode begins with the Brook family abuzz with rumors about Clara Barton, a real-life nurse who founded the American Red Cross, who is scheduled to give a speech at Aurora Fane's house. Ada and Marian (Louisa Jacobson) join the event and run into Cornelius Eckhard III, a childhood friend of Ada's. Cornelius desired to marry Ada, but his attempts were turned down. Except for Agnes (Christine Baranski), everyone assumes it was rejected because the Eckhards lacked both money and social standing.
However, as Agnes tells Cornelius, her father discovered that he had referred to Ada as his "meal ticket." Given his current behavior, she accurately deduces that Cornelius is attempting to slither back into Ada's life and informs him about Ada's financial predicament, prompting him to leave abruptly.
Trouble brews for George Russell and his company as New York City aldermen decide to repeal the statute authorizing the construction of a second rail station in the city. He and Bertha (Carrie Coon) demonstrate why they are a perfect match when he asks for her permission to go to war with all his might, and she grants it, knowing that if he fails, they will lose everything. These two people remain strong in their love and faith in one another. This is a marriage of equals, or at least as equals as the time they live in allows. Bertha informs her husband that they once produced a fortune together and that they can do so again if necessary.
Oscar becomes obviously dissatisfied as Russell's issues become apparent, forcing him to locate another rich man's daughter and forget about the "ideal" Gladys. Peggy receives a letter from the Christian Advocate, a white journal that wants to publish one of her tales. However, when she meets with the publisher, she sees even darker aspects of racism and discrimination than she is used to in her daily life, and she ultimately decides not to have any of her articles published on the Christian Advocate.
Is Mr. Morris Dead at the End of The Gilded Age Episode 3?
Mr. Morris is, indeed, no longer alive. Mr. Morris, Mr. Fane, who is now revealed to be a municipal alderman, and their colleagues break their promise to George and repeal the ordinance establishing a second station in New York. George admits that he was not expecting this deliberate maneuver, but he is not astonished by it. The aldermen acquired company stock on margin, passed the law, and profited handsomely. They have now sold the shares short and nullified the law, believing that the value will drop. They want to repurchase the shares when the price falls as low as it can go, earning two or three times the money they first earned.
What they don't realize is how determined and cruel George Russell can be. He jeopardizes his own family's future by purchasing his company's shares as soon as they become available on the market. Although he intends to keep it a secret, it appears like everyone is aware of it. The aldermen's finances would soon be in shambles. They grovel in George's office, asking with him to show pity. It's quite literal in Mr. Morris' case. But it has no effect on George. Mr. Morris also sends his wife to make amends with Bertha, who rejects the offer. Mr. Morris commits himself because he is facing full poverty, not knowing that George will eventually decide to show him and others mercy.
Marian, will you accept Tom Raikes' proposal?
The Statue of Liberty had not yet been consecrated or assembled in 1882. Raikes and Marian cross paths in Madison Square near Lady Liberty's hand clutching the torch. Raikes proposes to Marian there on a Monday evening. She, on the other hand, does not respond. He eventually departs, urging her to contact him as soon as she has a response. Marian clearly adores Raikes. He is a man who went out of his way to be kind to her although he didn't have to.
However, fondness does not always mean love. In this episode, she expresses her affections for Raikes while faced by Agnes, who refers to Raikes as a "adventurer," a quality that was clearly unsuitable in males seeking the hands of Gilded Age upper-class women. Marian claims she doesn't want to marry him but wants to keep him in her life, much to her aunt's chagrin. Marian, given the current state of affairs between her and Raikes, will almost certainly reject his request.
While she seeks to disrupt the culture in which she was born, she recognizes that she must follow its rules. She is a destitute woman whose only asset is her surname. She may recognize that she must use it wisely and avoid associating herself with a lawyer, no matter how ambitious, well-spoken, and attractive he is.
Views: 669
Genre: Drama, TV Shows Explainers
Director: Julian Fellowes
Actors: Blake Ritson, Carrie Coon, Christine Baranski, Cynthia Nixon, Denée Benton, Harry Richardson, Jack Gilpin, Louisa Jacobson, Morgan Spector, Simon Jones, Taissa Farmiga, Thomas Cocquerel
Studio: HBO, Neamo Film and Television, Universal Television