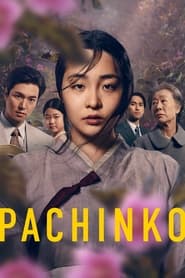 Pachinko Finale Recap and Ending Explained
In the season one finale of the epic period drama series 'Pachinko,' the lives of several members of the Kim-Baek family reach their separate turning points. Sunja (played by Yu-na Jeon as a child, Minha Kim as a teen, and Youn Yuh-jung as an adult) becomes a provider for her family in 1938. Sunja's child with Koh Hansu (Lee Min-ho) is presented as Noa. As Japan prepares for World War II, life for Korean immigrants grows more difficult. Solomon (Jin Ha) learns of another storm brewing on the horizon in 1989 and understands it's time for him to mature. Here's all you need to know about the season 1 finale of 'Pachinko.' WARNING: SPOILERS AHEAD.
Recap of the Pachinko Finale
Isak (Steve Sang-Hyun Noh) is celebrating the first birthday of his biological son, Mozasu, in 1938. The family is as content as it has always been. Noa goes to elementary school and is closer to Isak than he is to his mother. However, Isak is arrested by Japanese officials one day on suspicion of "unpatriotic" activities. Sunja immediately believes that this cannot be real. Her sweet and gentle pastor spouse can never have anti-establishment or anti-Imperial sentiments.
Sunja soon realizes, however, that she does not know Isak as well as she assumed. He was a member of a communist organization that promises to work with workers from other countries to achieve peace and a decent salary. Isak has put his own family at risk in pursuit of noble goals and the improvement of others. Sunja realizes this and yells at Isak's associates in frustration before the police arrive to raid the communists' secret hideout.
Yoseb loses his job at the plant as a result of his brother's antics. Sunja steps up when the family is on the point of financial ruin. She is illiterate and does not yet understand the language of her adopted family, but she has always had a strong determination to persevere. Soon after Isak is taken away, she buys a big amount of napa cabbages in order to start her own kimchi stall.
As Hana approaches death in 1989, she, Solomon, and their family suffer under the weight of their regret. Hana laments her decision to flee and wreck her life. Solomon laments spending his entire life listening to others. Etsuko, Hana's mother, expresses regret that she is unable to save her young daughter. Mozasu laments how he raised his son and fears that he would suffer the same fate as Mozasu's older sibling Noa. Sunja, on the other hand, has a mountain of regrets that have only piled up over the years.
What Happens to Noa After the Pachinko Finale?
We hear of Noa's sad death in 1989, thanks to a conversation between Mozasu and Sunja. 'Pachinko' is the web adaption of Korean-American author and journalist Min Jin Lee's 2017 book of the same name. In the novel, Koh Hansu pays for Noa's education. However, after discovering who Koh Hansu is, Noa is stricken with shame and disowns his entire family. He subsequently relocates to Nagano and begins working for a racist owner of a pachinko business. To conceal his true identity, he takes on a Japanese name and marries a Japanese woman. They are the parents of four children. He spends the next 16 years of his life living this massive lie.
Sunja learns the location of her eldest son through Koh Hansu. Despite his concerns, she decides to pay a visit to Noa. He promises to keep in touch with her from now on. However, not long after she leaves, he commits suicide. The show's creative liberties have skewed it away from the source material's trajectory, but this is mostly due to Solomon's storyline. Solomon is the family's future in 1989. From the narrative's point of view, the consequences of his actions are generally unknown. 'Pachinko,' on the other hand, has maintained substantially true to Lee's work in terms of other characters.
Not long after Isak's incarceration, a young Noa meets Koh Hansu in the season finale. They don't realize it yet, but this encounter will alter their destiny, for better or for worse. Hana ultimately choose to be actively euthanized. Solomon goes into her room moments before her death and brings her to the roof, where he places a garland around her neck. Hana had previously expressed her desire to die in Hawaii rather than in a hospital ward. Solomon can no longer take her to Hawaii, but he can bring Hawaii to her.
Sunja, why do you give Solomon the watch?
Sunja sold the watch in one of the previous episodes to pay the loan sharks the money Yoseb owed them. The watch was returned to Koh Hansu by the man she sold it to. This means she will be able to reclaim it later in life. She has always regarded the watch to be a curse, as she tells her grandson. But she eventually realized how it saved her family. She now hopes that it will have the same effect on Solomon.
In the novel, Koh Hansu is crucial to her family's survival. But that isn't what she's talking about here. The watch functioned as a catalyst at many pivotal times in the family's history. The season concludes with Sunja and Solomon at a crossroads in their lives. Sunja comes into her own at that market in 1938, adapting into her surroundings and displaying her ability to survive. Her and her family's lives will get more difficult in the coming decade, but she has already begun to transition into the protective matriarch we see in 1989. They will find a way to keep going.
Things are a little more difficult for Solomon in 1989. On Hana's advice, he decides to take charge of his situation and approaches Yoshii, a yakuza-connected man, and convinces him to assist him with Han Geum-ja, the Korean landowner who refuses to sell her property. Hana's death marked the end of Solomon's innocence and idealism. By striking a deal with Yoshii, he shows that he is willing to get his hands dirty.
What Is the Meaning of the Documentary-Style Interviews at the End of Season 1's Finale?
Soo Hugh, the show's creator, wants Pachinko to have four seasons in total. Those interviews were expected to bring the series to a finale. Hugh, however, became concerned that he would not be able to complete four seasons and decided to include the interviews at the end of the first season. The women in the interviews, like Sunja, immigrated to Japan during the colonial period. Following the war, a sizable section of the Korean population in Japan returned to Korea. These women are among those who did not. They persevered in the war-torn country and actively contributed to Japan's reconstruction. Jackie Kim, a historian, conducted the interviews.
Views: 523
Genre: Drama, TV Shows Explainers
Director: Soo Hugh
Actors: Anna Sawai, Han Jun-woo, Jeong In-ji, Jimmi Simpson, Jin Ha, Jung Eun-chae, Kaho Minami, Kim Min-ha, Lee Min-ho, Soji Arai, Steven SangHyun Noh, Youn Yuh-jung
Studio: A Han.Bok Dream Production, Blue Marble Pictures, Media Res