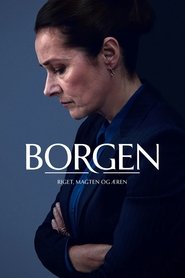 Borgen Power and Glory Ending Explained
'Borgen: Power & Glory' is a sequel to the Danish television series centered on Birgitte Nyborg. The political drama series follows the former Danish Prime Minister in the latter stages of her political career, currently working as Foreign Minister under Prime Minister Signe Kragh's rule. Following the finding of oil in Greenland, a power struggle follows, with Birgitte negotiating with several parties on explosive conditions.
Throughout the season, Birgitte experiences a number of problems and is forced to make ethically dubious decisions. Finally, Birgitte must acknowledge the cost of maintaining her political career while making a risky decision not only for herself but also for Denmark's future. If you're curious about Birgitte's destiny and the consequences of her decisions, here's all you need to know about the ending of 'Borgen: Power & Glory.' WARNING: SPOILERS AHEAD!
Recap of Borgen: Power & Glory
'Borgen: Power & Glory' begins with the discovery of oil in Greenland, which is self-governed but controlled by Denmark. Against the advice of Foreign Minister Birgitte Nyborg, Greenland's counterpart, Hans Eliassen, announces the news to the media. Meanwhile, Prime Minister Signe Kragh assumes control of the oil crisis. Birgitte discovers that Kragh has appointed her erstwhile political foe Michael Laugesen to a newly formed position of authority in the ministry. Birgitte releases the information, forcing Kragh to not hire Laugesen and creating a distraction that places the oil in Birgitte's ministry.
Eliassen wants to exploit Greenland's oil and uses his position to fight for Greenland's independence from Denmark. Birgitte, whose party was elected on the basis of its environmentalist ideals, cannot support oil production due to concerns about the environmental implications on the Arctic's fragile habitat. As a result, she dispatches Asger Holm Kirlegaard to Greenland as an acting ambassador. Asger investigates the situation and bargains with Eliassen. Meanwhile, other countries, including the United States, China, and Russia, are attempting to enter the Greenland oil bid indirectly.
Birgitte is found hiding information from the Foreign Committee, which leads to her publicly shifting her position in support of oil extraction. As a result, while saving her political career, Birgitte's approval ratings plummet, and she must effectively negotiate with the various parties engaged in the oil deal. Meanwhile, Katrine Fnsmark, the recently hired TV1 news editor, struggles with her journalistic integrity while reporting oil extraction stories. Birgitte hires Laugesen as her spin doctor in an attempt to rehabilitate her public image. However, as the situation in Greenland becomes more complicated, Birgitte engages in various dangerous maneuvers, which result in a vote of no confidence against her. As a result, Birgitte must compete for party leadership against New Democrats deputy leader Jon Berthelsen.
Borgen: Power and Glory Comes to an End: Why Does Birgitte Resign? What is her new position?
Greenland's oil crisis has been resolved following the signing of the agreement with Greenland and China. Birgitte's work impresses the Prime Minister, and she is appointed Deputy Prime Minister. However, in the New Democrats party elections, Jon Berthelsen challenges Birgitte's leadership. Birgitte is put to the test in the finale, as she must hold herself accountable for her acts in public.
Following Berthelsen's speech, he invites Bent Sejr, Birgitte's old mentor, to talk about her. Bent claims that, as a result of public perception, Birgitte is no longer identifiable as a politician to him. Her continuously shifting opinions have cost her public and parliamentary support. As a result, Birgitte's political career is once again jeopardized. Laugesen proposes undermining Bent's credibility by disclosing his dementia therapy. Birgitte, on the other hand, finds a different method to maintain her public image while doing what is best for her party.
Birgitte, with the assistance of Asger, eventually finds a means to void the agreement inked with Greenland and China. She declares that the oil will not be extracted and flips her position once more. Birgitte publicly admits her mistakes and regains her supporters. She does, however, quit as New Democrat leader and heartily supports Berthelsen as the new leader. Birgitte resigns as Foreign Minister, but not before hatching a new scheme with Prime Minister Kragh.
Given that the oil issue has pushed Denmark into diplomatic discourse with multiple superpowers, it is clear that Denmark must assert its worldwide presence. As a result, Birgitte offers to Kragh that she recommend her for a "bigger" post in Europe. As the season comes to a close, Birgitte is bid farewell by her ministry and freshly won over supporters, as speculations of her becoming the new European Union Commissioner circulate. Finally, while Birgitte maintains the appearance that she is leaving politics, the seasoned politician is preparing to take a new role that would alter her political career.
Why Did Katrine Have a Panic Attack? Is She Leaving TV1?
As the season develops, Katrine Fnsmark, the news editor of TV1, faces a number of obstacles. She is tasked with restoring the channel's image as one of the greatest news networks in the country. However, a dispute with one of her top news anchors escalates, resulting in numerous online remarks about Katrine.
Katrine is summoned as the "Nyborg" expert during the New Democrats' elections in the finals. Katrine, however, collapses under the stress and emotional pain induced by her job before she can enter the stage. Katrine's family life has been affected by the stress of her employment, and her mental health is deteriorating as a result of the continual online scrutiny she receives.
Katrine eventually decides to leave TV1. She is not, however, done with political journalism. She declares her desire to publish a book about Denmark's political forces and enlists the assistance of her mentor, Torben Friis. As a result, Katrine, like Birgitte, steers her profession in a new path while keeping faithful to her ideals.
What Happens to Greenland's Oil Extraction Project?
Denmark is negotiating with China, Russia, and the United States in the delicate oil scenario. Furthermore, Greenland intends to use the oil discovery to advance its goal of independence from Denmark. However, once the agreement is signed, all parties concerned become dissatisfied with the arrangement. Denmark is concerned about the potential environmental consequences of Arctic oil exploitation. On the other side, China is threatened by the United States' military operations in the region.
Similarly, Greenland is dissatisfied with Denmark's part of the oil earnings. Finally, Birgitte wants to correct the issue by nullifying the agreement due to environmental dangers. Kragh backs Birgitte's choice while assuring Greenland that Denmark supports its bid for independence. The oil extraction project is eventually abandoned, and the various governments lose interest in Greenland.
Views: 582
Genre: Drama, TV Shows Explainers, War & Politics
Director: Adam Price
Actors: Angunnguaq Larsen, Benedikte Hansen, Birgitte Hjort Sørensen, Emil Poulsen, Freja Riemann, Lars Knutzon, Lars Mikkelsen, Lisbeth Wulff, Mikael Birkkjær, Mikkel Boe Følsgaard, Ole Thestrup, Peter Mygind, Sidse Babett Knudsen, Søren Malling, Søren Spanning, Thomas Levin
Studio: SAM Productions