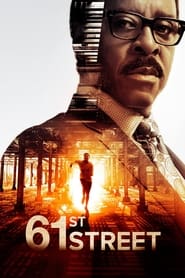 61st Street Episodes 1 and 2 Recap and Ending Explained
'61st Street' is a harsh, unvarnished look at corrupt urban law enforcement and how a Black college-bound adolescent becomes entangled in the criminal justice system. Moses Johnson is at the wrong place at the wrong time and is blamed for the killing of a cop – probably one of the most lethal crimes for which one can be held accountable. The young man is pursued by the majority of Chicago's police force, and the show depicts in gritty detail the extent corrupt law enforcement authorities would go to exaggerate the truth.
If you're new to the show and are still working your way through the first few episodes, we're here to answer any questions you may have. Let's take a deeper look at episodes 1 and 2 of '61st Street.' WARNING: SPOILERS AHEAD.
Recap of 61st Street Episodes 1 and 2
The first episode begins with Moses, a college-bound athlete who is exercising with his coach. Moses has clearly worked really hard and does not come from a wealthy family. On his way back from the track, he encounters his younger brother, Joshua, who is being tormented by the neighborhood drug gang. Moses tries to calm things down, but this enrages one of the gang members, who takes out a revolver. Unbeknownst to them, the cops are watching the entire scenario and will shoot the gang member if he shoots his firearm. Joshua is apprehended, but Moses escapes.
Officer Michael Rossi pursues Moses and eventually corners him. The police officer is accidentally killed in the ensuing scuffle after stumbling and becoming impaled on a metal beam. Moses flees, terrified, but not before being seen by Michael's partner, Johnny Logan. Lieutenant Brannigan, the partner's boss, then persuades him to modify the account so that Moses appears to be a criminal. What Johnny doesn't say is that Michael was wearing a wire when he was slain, and that he later buries the device.
We also meet Franklin Roberts, a local attorney who fights for the rights of members of the Black community, particularly those who have no one else to turn to for assistance. Franklin, a seasoned lawyer who has represented thousands of clients, is taken aback when he learns that Moses is being held responsible for the murder of a cop.
Is Moses Going to Prison in 61st Street Episode 2?
Following Michael's death, cops come in and shut down the entire area, making arrests and frightening all of Moses' associates. His mother and brother are detained for interrogation but later released. In their absence, however, the cops place listening devices in their home.
Franklin eventually finds Moses and tells the terrified young man to give himself in if he ever wants a normal life. Moses accepts halfheartedly but insists on meeting his mother. Franklin devises a complex plan to bring Moses' mother, Nora, to see her son. Unfortunately for them, the authorities find out about the scheme, and episode 2 concludes with Moses being jailed in the sight of his mother and Franklin, who claims to be the young man's lawyer.
So Moses is arrested, and things look bad for him considering the police department's spiteful attitude toward someone they believe has slain one of their own. However, as Franklin advises, getting detained may be the safest option for Moses because certain cops (Lieutenant Brannigan, for example) would like to see the young athlete slain. Brannigan actually tries to persuade Moses to run in one particularly horrifying sequence, so the cops are justified in shooting him. Fortunately, Moses does not flee and is apprehended safely.
Moses' one saving grace is that he has Franklin on his side. The lawyer will try to ensure that Moses has his day in court, albeit the chances of even having a fair trial appear to be slim. As of yet, Moses has not been convicted of the murder of police officer Michael Rossi, thus the young man will not go to prison but will likely go to trial first. However, things do not appear to be going well for Moses at the moment.
Is it true that the drug gangs are after Moses? Moses, was he a drug dealer?
Another genuinely dangerous part of Moses' predicament is that local drug gangs appear to be following him. While a police team of hundreds has converged on the South Side area to find the young man, he is now being pursued by violent members of a local gang.
The gangs are looking for Moses because their drug-selling operation has been seriously harmed by all of the police officers who have begun to patrol the neighborhood. As a result, it suddenly becomes in the gang's best interest to find Moses and hand him over to the cops, putting the young man in grave danger.
Of fact, Moses seemed to have had no criminal inclinations prior to his unlucky run-in with the police and was on his way to college on an athletic scholarship. Even the drugs discovered in his residence were planted by one of Lieutenant Brannigan's dishonest underlings.