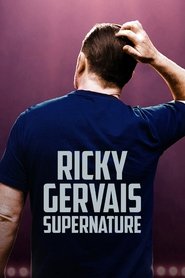 Ricky Gervais: SuperNature Special Review
Ricky Gervais opens 'SuperNature' by teaching the audience about irony. He assures them that there will be snippets of it throughout the special and invites them to try to locate it. The instructions aren't just for the people in the theater with him; they also apply to those of us watching from home. Gervais' second Netflix special following 'Humanity' is also possibly his most contentious. That's saying a lot considering who he is and the style of comedy he's created throughout the years. In 'SuperNature,' Gervais looks deeply into numerous aspects of human existence and exposes today's culture's inherent hypocrisy.
'SuperNature' isn't a difficult routine, but it's also not easy. Gervais is undoubtedly the most daring comic working today, and he believes in doing unconventional humour. In the special, he discusses everything under the sun, from child abuse to pedophilia to religion to death to sadness to trans activism to obesity to AIDS to cancer. The comedy tests you on a fundamental level since you most likely hold one or more of the aforementioned items sacrosanct. And sacred is a ridiculous term in Ricky Gervais's world.
When Gervais discusses the special's title, he is philosophically contemplative. Religion and the supernatural have always played an important role in his writings. He co-wrote, co-directed, and performed in the 2009 film 'The Invention of Lying,' which remains one of the best films to examine faith and religion. In 'SuperNature,' he discusses the wonder of human life and how delicate it is. For 13, 14 billion years, the Universe has existed. According to Gervais, if we are extremely fortunate, we will live for 80 to 90 years. He encourages his audience to make the most of it. During these segments, it does get a little preachy. Faith is unconcerned with reality; it exists regardless of it. That is why it is called faith. It's not as though Gervais is unaware of this. His religious jokes are becoming tedious and, at times, repetitious at this point.
There is also a problem with crude comedy. I'm all for utilizing vulgarity to make people laugh. However, Gervais frequently becomes overly reliant on this special. Don't get me wrong: the jokes are still humorous, but they fall short of the expectations set by their setups.
These issues are ultimately the product of creative judgments, and they are often neglected. However, these are not the show's main problem. Gervais laughs at his own jokes throughout the special, especially at the conclusion, sometimes even before delivering them. It feels jarring and out of place when this happens. It makes you wonder if this is the first time Gervais has told these jokes.
Aside from the small faults noted above, 'SuperNature' is a smooth ride developed and delivered by one of the best in the business. While the jokes can be brutal, what follows the punchline is frequently incredibly touching. The joke about his friend's deceased grandmother is my favorite part of the entire special. It's shamelessly humorous and wholesome, which is an uncommon mix these days. Even if you know where the joke is heading or have already seen it, the punchline hits you like a freight train. Because it stands as an island in a sea of misery, the humor here is amplified. When you hear Gervais' friend laugh when he hears the joke, that's your cue to switch from shocked laughter to genuine laughter.
Gervais has been doing this for a while and understands how to manipulate his audience. On the spur of the moment, he makes us laugh, cry, be surprised, and offended for an hour and four minutes. Although the special has flaws, the advantages far exceed the disadvantages. Furthermore, it has significance in its favor, for better or worse. 'SuperNature' is a scathing critique of postmodern culture. It critiques people on both sides of the political spectrum, but Gervais refuses to be fully cynical.