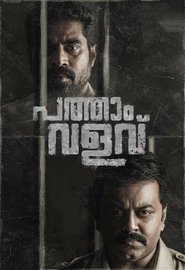 Pathaam Valavu (2022) Movie Review, Cast, Trailer, OTT, Release Date & Rating
Pathaam Valavu (2022) malayalam movie which is released in Malayalam language in theatre near you. Watch Thiruttuvcd Pathaam Valavu Malayalam Movie Review, Trailer Online, Teaser, OTT Release Date, First Look, Poster, Audio Songs, Movie Updates and Details, Wiki & IMDB, Pathaam Valavu Movie Release Date, lead Star cast and crew like Hero, Heroine, Movie director, photos & video gallery.
Pathaam Valavu Movie Details
Pathaam Valavu is a Malayalam thriller film directed by M. Padmakumar that was released in 2022 and stars Suraj Venjaramoodu, Aditi Ravi, and Indrajith Sukumaran. Abhilash Pillai penned the storyline for the film, as well as Night Drive (2022), which also stars Indrajith Sukumaran. In the film, Aditi Ravi plays a mother. After a brief absence, Ajmal Ameer returns to Malayalam cinema with this film.
Pathaam Valavu Movie Release Date
The film released on 13 May 2022.
Pathaam Valavu Movie OTT Release Date
| | |
| --- | --- |
| OTT Platform | TBA |
| OTT Release Date | TBA |
| Theatrical Release Date | May 13,  2022 |
Pathaam Valavu Movie Cast
Suraj Venjaramoodu as Solomon
Indrajith Sukumaran as M. Sethunath
Aditi Ravi as Seetha
Ajmal Ameer as Varadhan
Sudheer Karamana as Priest
Kanmani as Lachumol
Swasika as Suja
Sohan Seenulal as Swami
Aneesh G. Menon as Constable Satheesh
Jayakrishnan as SI Antony
Major Ravi as CI Shihab Ali
Nisthar Ahmed as Xavier
Binu Adimali as Constable
Shaju Sreedhar
Pathaam Valavu Movie Summary
When a police officer's hunt for a convict on the run takes an unexpected turn, a story filled with emotions, fate and revenge unfolds in front of him.
Pathaam Valavu Movie Review
M Padmakumar, the director of Joseph and Akashamittayee, returns with another thriller, Patham Valavu.
SI Sethu (Indajith Sukumaran) was ready to go on leave to meet his pregnant hospitalized wife when his superior assigns him the task of apprehending a murder prisoner, Soloman (Suraj Venjaramoodu), who has not reported back since his parole expired.
The police team departs for the high ranges, apprehends him, and begins their return journey, but is stranded on the route due to a landslide. A tea shop owner at the location tells the Sethu the story of Soloman, a young orphan who grows up to be a good samaritan, falls in love with a girl from another community, Seetha (Aditi Ravi), and marries over opposition from the girl's parents and the man who was supposed to marry her, Varadan (Ajmal Ameer). Varadan, a police officer, arrives at their local police station after the couple had a baby daughter. Soloman's young daughter goes missing, and they discover she was raped. Was Varadan here to exact vengeance on Seetha? The rest of the story is about how Soloman became a murderer.
The two-hour film is more of an emotional story of two families and guys, one who has lost his child and another who is about to become a father. The director has done an excellent job of capturing these emotions.
Indrajit and Suraj are well matched in acting chops and are beautifully juxtaposed in their opposite parts. All of the actors have done an excellent job in their parts. We occasionally experience a lag in the flow and are unable to connect with the characters.
Songs have little to do with anything other than being in the background to match the flow of the story. Ratheesh Ram captured the high range cynical beauty so wonderfully, whether it is the church festivities or the early morning mist, hills, or rainfall.
Patham Valavu is a one-time watch with a unique twist.
Duration: N/A
Release: 2022