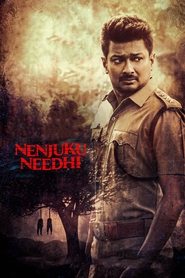 Nenjuku Needhi (2022) Movie Review, Cast, Trailer, OTT, Release Date & Rating
Nenjuku Needhi (2022) tamil movie which is released in Tamil language in theatre near you. Watch Thiruttuvcd Nenjuku Needhi Tamil Movie Review, Trailer Online, Teaser, OTT Release Date, Nenjuku Needhi first Look, Poster, Audio Songs, Movie Updates and Details, Wiki & IMDB, Nenjuku Needhi Movie Release Date, lead Star cast and crew like Hero, Heroine, Movie director, photos & video gallery.
Nenjuku Needhi Movie Details
Nenjuku Needhi is a 2022 Indian Tamil-language political drama film directed by Arunraja Kamaraj and produced by Boney Kapoor. Udhayanidhi Stalin, Aari Arujunan, Tanya Ravichandran, and Shivani Rajasekhar appear in this version of the 2019 Hindi film Article 15.
Nenjuku Needhi Release Date
Nenjuku Needhi was released theatrically on 20 May 2022
Nenjuku Needhi OTT Release Date
| | |
| --- | --- |
| Theatre Release Date | 20th May 2022 |
| OTT Release Date | July 2022 (Expected) |
| OTT Platform | Zee5 (Expected) |
Nenjuku Needhi Movie Cast
Udhayanidhi Stalin as S. Vijayaragavan IPS
Aari Arujunan as Kumaran
Tanya Ravichandran as Adhithi Vijayaraghvan
Shivani Rajasekhar as Kurinji
Suresh Chakravarthy as Circle Inspector Sundaram Iyer
Yamini Chander as Dr. Anitha
Ilavarasu as Sub-Inspector Malaichami
Mayilsamy as V. Villalan
Abdool lee as Vasan
Ratsasan Saravanan as Nataraj
Ramesh Thilak as Venkat
Sayaji Shinde as The CBI Officer
Ravi Venkatraman as Kesavan
Jeeva Ravi as Superintendent of police
Ashvin Raja as Mechanic Suresh
Nenjuku Needhi Movie Review
'If everyone is equal, who will be king?' 'The person who believes that everyone is equal' – Nenjukku Needhi by Udhayanidhi Stalin is forceful, hard-hitting, and thought-provoking, much like this dialogue in the film. Though Tamil cinema has recently produced a number of films that address caste inequality and societal injustice, this film hits us hard from the start. We know precisely what's going to happen next, but the writing and production are so good that they keep you interested.
The film, a replica of the Bollywood classic Article 15, follows an IPS officer as he investigates a horrible crime involving the strange deaths of two dalit girls and a missing girl.
Vijayragavan (Udhayanidhi Stalin), an IPS officer, is sent to a rural area of Tamil Nadu where caste discrimination and untouchability are still prevalent. Despite having read about discrimination in numerous publications, Vijayragahvan finds it difficult to tackle these issues in real life. While he is still battling with the ideologies of others around him and attempting to educate them, a puzzling case involving three missing dalit girls who worked in a local factory complicates his life. Two bodies are discovered, but the case becomes problematic because there is no sign of the third. The plot is around who is responsible for this horrible act and how Vijayraghavan pursues the case under pressure from his casteist superiors.
While the main narrative is not novel, Arunraja Kamaraj's writing and the anguish that the characters go through make us root for the film. Vijayragahvan discusses the caste structure and the number of subdivisions within it with his subordinates in one scene. Though that makes us chuckle, Vijayragahvan's response to them will resonate with the majority of spectators. The writing is so good that most of the dialogues ought to be applauded.
Just when we believe things are getting out of hand, the creators justify it with interesting happenings and the setting in which the characters live. The cinematography (by Dinesh Krishnan) and music are the stars of this film. Dhibu Ninan Thomas, the film's composer, grasped the film's rhythm and lifted the moments to new heights. Udhayanidhi has done respect to the role originally performed by Ayushmann Khurrana, and this character feels tailor-made for him.
The main problem is that several situations are predictable, and there is some lag in the early half of the story. The pre-interval block, in which Vijayragahvan strides into the station with a notice paper titled "Article 15," more than makes up for it.
Aari's portrayal of Kumaran, a dalit leader and revolutionary, is flawless. However, the filmmakers should have focused more on his character and given him a backstory to help us empathize with him. Tanya Ravichandran, who plays a gender equality activist, and Shivani Rajashekar, who plays Kurunji, both perform an excellent job.
Duration: 138 min
Release: 2022