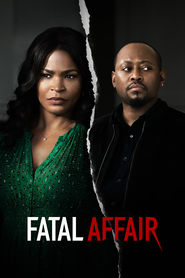 Fatal Affair Review – Is a Forgettable Thriller
One of the most common and severe crimes is stalking. If left untreated, it festers like a wound, infecting everything in its path and wreaking havoc on everyone. It's terrifying, and it can haunt a person for the rest of their lives, even if the immediate threat has passed. With such intense feelings attached to it, stalking becomes a promising option in criminal dramas. 'Fatal Affair,' a Netflix original series, focuses on just that. The film explores the terror and paranoia that a person has when they find they are being pursued. Despite the strong concept at its foundation, it falls short of getting us engrossed in the plot or the characters. It's billed as a psychological thriller, but we didn't sense one of these things over its 90-minute runtime.
Plot of a Fatal Affair
Ellie's life is changing for the better. After several years of working for another firm, she has chosen to leave and start her own. This decision is partly influenced by her recent relocation from the city to a peaceful suburb where she and her husband, Marcus, have acquired a modest home. Ellie's only complaint is the coldness of her marriage. The fire and excitement that they once had have faded, and twenty years into their partnership, she and Marcus have grown apart.
Her paths cross with David's as she is swirling in the whirlwind of these feelings. They were college mates who hadn't seen each other in almost two decades. Meeting up with an old friend is a breath of new air in Ellie's life, and soon after, over a few drinks, she spills the apparent collapse of her marriage to David, who confesses that he, too, has recently divorced. Things heat up between them after a few more drinks, but Ellie decides it's best to put a stop to her infidelity before it gets out of hand.
Unbeknownst to her, David has already fallen in love with her, and now that he knows she is trapped in an unhappy marriage, he would go to any length to get her out of it.
Review of the Fatal Affair
For the audience, stories about psycho lovers who are willing to get their hands filthy for the sake of love are nothing new. Several similar films have been created in Hollywood over the years, and almost all of them follow the exact same sequence of events as in 'Fatal Affair.' In this regard, the picture does not provide the audience with anything new. After a few minutes, you can pretty much predict the entire narrative, and the plot keeps pretty much in line with whatever theories you may have already dreamt up.
If you go in expecting psychological anguish and edge-of-your-seat thrills, you will be disappointed. The film runs on a flat note that never attempts to pick up a rhythm. The film never draws you in by demanding that you peer into the minds of its stalker and his victim, but instead maintains you at a safe distance as a mute observer who can't connect with the characters even if they desperately want to.
It's not that the actors don't make an effort to build rapport with the audience. It's easy to appreciate Ellie since she's a strong woman who isn't willing to give up easily, just because Nia Long transfers her confidence into her. Despite this, we can't help but wonder how someone like Ellie, who is a lawyer and a fearless one at that, won't seek assistance from law enforcement.
When her spouse questions how she can talk to a jury, a group of strangers, and sway them in the favor of her clients, but finds it impossible to talk to her husband of twenty years about such a terrible circumstance in her life, the film demands the question from her. A similar feeling arises for those around her, particularly her best friend, and these questions draw us further away from any interest we may have gained in the story.
Overall, 'Fatal Affair' is barely worth your time, even if you have plenty of it right now. It could have been a lot better, especially if it had tried to be more consistent in its portrayal of its characters. However, it slips into the same cycle of hackneyed stereotypes as every other obsessed-lover film and fails to innovate with its plot. Instead, it's just another cliched plot attempting to cash in on a genre that has attracted a following due to the quality of its past films.
Duration: 89 min
Release: 2020