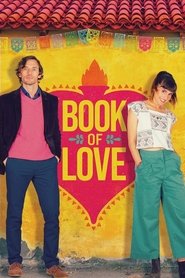 Book of Love Ending Explained: Do Henry and Maria End Up Together?
'Book of Love' portrays Henry and Maria, two very different people who become reluctant collaborators. The two writers meet after Maria's translation of Henry's novel becomes a blockbuster in Mexico. Over time, opposites attract, and sparks flare between the pair. Analeine Cal y Mayor ('Daughter from Another Mother') directs the romantic comedy film.
It has an interesting cross-cultural narrative that is a breath of fresh air in a genre that is generally saturated. If you're curious how this romance story, which blends passion and practicality, ends and whether the two lovers reconcile, here's everything you need to know about the 'Book of Love' ending. WARNING: SPOILERS AHEAD!
Synopsis of the plot of Book of Love
The film begins with British author Henry Copper (Sam Claflin) attending a reading of his novel 'The Sensible Heart.' However, the book has not found a readership and has gotten negative reviews. Henry receives a phone call from his publisher Jen, who informs him that his book has become a sensation in Mexico. Henry is perplexed by the book's unexpected success and is doubtful. Nonetheless, he accepts to participate in a book promotion campaign in Mexico.
Maria (Verónica Echegui), a young divorced lady in Mexico, is raising a son. Antonio, her ex-husband, is feeble and selfish. For the Mexican publication, she translated Henry's novel into Spanish. Henry meets Maria upon his arrival in Mexico, and the two attend interviews to promote the novel. Henry realizes Maria has changed his work and added sexually explicit parts, which are the reason for the book's success.
Soon after, Henry and Maria begin to disagree on the novel's subject matter and the thorny concept of love. Because Henry and Maria come from such disparate backgrounds, they have very diverse perspectives on love, passion, sex, and emotions, all of which are essential to writing. Jen informs Henry that, due to the book's success in Mexico, they are re-releasing it, but with Maria's revisions.
The second edition is an instant success all over the world. As a result, Henry is tasked with writing a new romantic novel in collaboration with Maria. Despite their disagreements, Maria and Henry form a bond and resolve to collaborate. Soon, romance blossoms between the two. However, some unanticipated issues arise, separating the two loves.
Do Henry and Maria End Up Together in Book of Love?
Henry and Maria's mutual attraction builds into romantic sentiments during the film, and eventually sleep with each other. Their developing intimacy, though, makes Antonio envious, and he sends Henry an old photograph of himself and Maria in bed. Henry's heart is broken by the photograph. Henry attempts to finish the work and surprise Maria, initially inspired by his ardent affections for Maria and writing. However, he feels distressed and crafts a depressing finale. Throughout the process, he is unaware that he is breaching Maria's most crucial rule: never write alone.
When Maria arrives, Henry confronts her, and she is dissatisfied with him. She believes Henry should have trusted her more than Antonio, who is a complete stranger to them. Maria, on the other hand, is even more sad because Henry disobeyed their one and only rule. Maria is distraught and requests Henry's departure, so he returns to London. Henry intends to win Maria over by putting her name on the book cover. He goes back to Mexico to promote their new book.
During the conversation, Henry discloses that he and Maria co-wrote the book. He proclaims that Maria improved his writing and uses it as a metaphor to convey Maria's beneficial influence on his life. Henry is convinced that Maria makes him a better person in every way. Maria, who is sitting in the audience and listening to Henry, is moved by his remarks. Antonio, on the other hand, enters and attempts to fight Henry. Henry and Maria proclaim their love for one other after Antonio is hauled away by security.
Henry and Maria end up together in the end. Despite the many challenges in their path, the two lovers get together, creating a love tale that is very different from the one in their book. Despite having opposing personalities, worldviews, and life experiences, Henry and Maria's greatest strength is finding common ground. The film's conclusion emphasizes this.
During their dispute, Maria laments that she always sacrifices her own happiness for the men in her life. Henry demonstrates that he is just like the other males by finishing the book without her. Henry, on the other hand, acknowledges his error and corrects it by assisting Maria in gaining acknowledgment for her efforts. In the process, Henry realizes how much he adores Maria. During the finale, Henry embraces his emotions and makes a passionate acknowledgment of his feelings. As a result, Henry demonstrates that Maria's happiness is important to him.
Henry understands Maria's perspective on love and uses it to reclaim Maria's adoration. When Antonio disparages Maria's work, Henry stands firm in her defense. Maria, on the other hand, is moved by Henry's attempts. She recognizes the pragmatism of the situation and overcomes her dislike for Henry. The two loves discover they have something in common and declare their feelings for each other. Finally, Henry and Maria's disagreement is shown to be a simple lover's quarrel, and the film concludes on a good note with the writing couple reuniting.
Duration: 106 min
Release: 2022