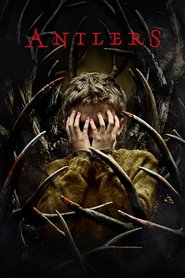 Antlers Review: A Missed Opportunity That Could Have Been a Horror Classic
Never in a million years did I imagine Scott Cooper and Guillermo del Toro working together on a horror film. Unless you count Cooper's initial effort into the aforementioned genre, the little-known 'For Sale by Owner,' in which he solely worked as a screenwriter and co-producer. Cooper is also known for his roles in dramas and crime films such as 'Crazy Heart,' 'Out of the Furnace,' and 'Black Mass.' As a result, seeing Cooper helm a horror film for the first time is rather intriguing. When combined with the spooky subject matter relating to Wendigo folklore, the picture sounds highly intriguing, at least on paper.
Based on Nick Antosca's 2019 short story 'The Quiet Boy,' the film follows Julia Meadows (Keri Russell), a teacher who returns from California to live with her brother and local sheriff Paul in a small Oregon town (Jesse Plemons). We uncover snippets about her troubled history, where she was a victim of child abuse. Back at school, she devotes special attention to one of her students, Lucas (Jeremy T. Thomas), a socially reticent youngster who is frequently bullied by other classmates. Julia believes Lucas will face the same fate as she did in the past based on what she sees and learns about him. His meth-addicted father, Frank (Scott Haze), and his younger brother, Aiden (Sawyer Jones), are nowhere to be found, prompting Julia to report Lucas' plight to her school principle, Booth (Amy Madigan).
Meanwhile, dead bodies are inexplicably discovered all throughout town, and when the sheriff's department begins their inquiry, Warren Stokes (Graham Greene), a former sheriff himself, believes it has something to do with the Native American terrible monster known as Wendigo, which feeds on humans. But Paul isn't the superstitious sort who believes such a myth because he believes there must be a rational explanation for the terribly deformed dead bodies.
Cooper, who co-wrote the screenplay with Henry Chaisson and Nick Antosca, expands the 32-page short story into an allegorical slow burn that attempts to cover numerous viewpoints. The mental pain and familial abuse associated to Julia and Thomas' individual personal troubles, as well as other gloomy subjects ranging from the opioid crisis to poverty, unemployment, and the disastrous consequences of disregarding indigenous people's territory, are among those in question. Cooper has a lot to say here, no doubt, because he certainly isn't interested in making a straight-up horror picture about Wendigo folklore. To be honest, I'm fine with it as long as the picture is either emotionally engaging or thought-provoking.
And, while I like Cooper's bold endeavor here, he ends up biting off more than he can chew, resulting in a film that is far too depressing for its own good. Even the allegories he attempts to sprinkle throughout the film come across as undercooked. The plot hardly touches the surface, and whatever allegories are stated are simply lying there flat and exposed without providing us with a deeper meaning. As a result, the film's slow-burn strategy is an unpleasant experience to watch through. If only everything had been fleshed out more thoroughly, this otherwise deliberate-paced horror picture would have been a satisfying one.
Meanwhile, the characters are a mixed bag. Keri Russell gives a decent portrayal as the emotionally traumatized Julia. But Jesse Plemons, a terrific character actor who deserves better, is forced to play a meek sheriff. He doesn't get to do anything here other than look befuddled or distant about all that's been going on. Graham Greene appears in a terribly underestimated role as a former sheriff whose great knowledge of Wendigo folklore is only used for exposition. As Thomas, Jeremy T. Thomas, a relative newcomer whose previous credits include appearances in TV programs such as 'The Righteous Gemstones' and 'Paradise Lost,' shines the brightest. I admire how he expresses his bottled-up feelings by blending subtle facial expression and body language.
As a horror picture, 'Antlers' offers a few great moments, but not enough to overcome its significant flaws. With the use of CGI and practical effects, the gruesome creature design of the deer-like Wendigo monster is technically remarkable. There's also a cool morphing effect, and Cooper shines as a visual stylist during some of the very violent scene pieces. I'm also delighted he doesn't rely on the standard cheap jump scare tactics that plague most horror films. It's just a shame the last fight with the Wendigo monster is so underwhelming. Florian Hoffmeister's atmospheric cinematography is also noteworthy, notably his use of shadows and gloom to depict the eerie dread of a rural hamlet teeming with unforeseen perils.
Overall, 'Antlers' is a squandered chance that could have been a genre classic if Cooper had addressed the subject matter with more focus!
Views: 177
Genre: Drama, Horror, Movie Reviews, Mystery
Director: Scott Cooper
Actors: Graham Greene, Jeremy Thomas, Jesse Plemons, Keri Russell, Rory Cochrane, Sawyer Jones, Scott Haze
Country: Mexico, United States
Duration: 99 min
Release: 2021