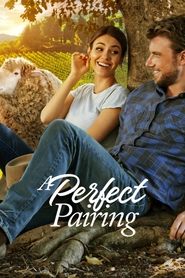 A Perfect Pairing Review: A Poorly Conceived Ending in a Mid-Tier Romantic Comedy
'The Perfect Pairing,' a romantic comedy about food, wine, and love, premiered on Hallmark Channel in January 2022. In May, four months later, Netflix began broadcasting 'A Perfect Pairing.' Despite the similarity in names and subjects, the two films are unrelated, as far as I can tell.
The Hallmark production is about a food and wine critic who loses her memory after an accident and begins a relationship with the owner of a winery she once criticized, whereas the Netflix production is about a high-flying wine executive attempting to carve a niche for herself in the highly competitive wine importing sector. In any case, it's intriguing to observe how Netflix has established itself in the sphere of low-budget romantic comedies once controlled by Hallmark.
Victoria Justice plays Lola Alvarez, the best executive at the wine-importing company she works for in 'A Perfect Pairing.' However, after being misled by both her boss and a lady she considered a friend, Lola decides to strike out on her own and launch her own wine-exporting business. She flies to Australia to persuade Hazel Vaughn, a wealthy entrepreneur, to let her be the US importer for the soon-to-be-launched Vaughn Family Wines.
Hazel, predictably, refuses, pointing out to Lola that her company does not yet exist. Undaunted, Lola decides to show Hazel that she will go to any extent to get the job, and eventually becomes a farmhand at the Vaughn family's sheep station. This California girl eventually finds her place amid her tough coworkers and falls in love with a handsome stockman.
'A Perfect Pairing,' directed by Stuart McDonald, whose earlier works include 'Oddball' and 'Crazy Ex-Girlfriend,' recognizes the inherent limitations of its premise and genre and keeps well within their confines. As a result, the plot is pretty predictable. But, in this genre, what's the big deal about predictability? The core audience may enjoy these kind of films because they are predictable, straightforward, and uncomplicated.
The images of 'A Perfect Pairing' are just stunning. The film, which was shot on the Gold Coast of Queensland, Australia, celebrates the natural beauty of the region, emphasizing its untamed and rustic elements.
As the protagonist Lola Alvarez, Justice is naturally charming. Her performance may not earn her an Oscar, but it serves its purpose. Lola is a really likeable main character, and Justice's sincere portrayal adds to it. 'Falling Inn Love' alumna Adam Demos plays Max, Lola's stockman love interest with a major secret. The performance leaves much to be desired, yet it ultimately serves its function in the picture.
The picture suffers from the inevitable antagonism between the two major characters. It's ludicrous, badly thought out, and feels completely out of place. What had been a fine mid-tier romantic comedy stumbles and loses pace in the final 20 minutes of its length.
While adding an extra layer of tension to the plot was undoubtedly required, the approach could have been far better. Furthermore, it has an impact on the ending, making it feel rushed and unjustified.
'A Perfect Pairing' has a lot going for it, but it finally breaks apart due to the producers' decision to include something that doesn't fit. The film would have been more rewatchable if it had been handled better. But, as things are, 'A Perfect Pairing' will be watched once and then forgotten.
Duration: 101 min
Release: 2022